What they're saying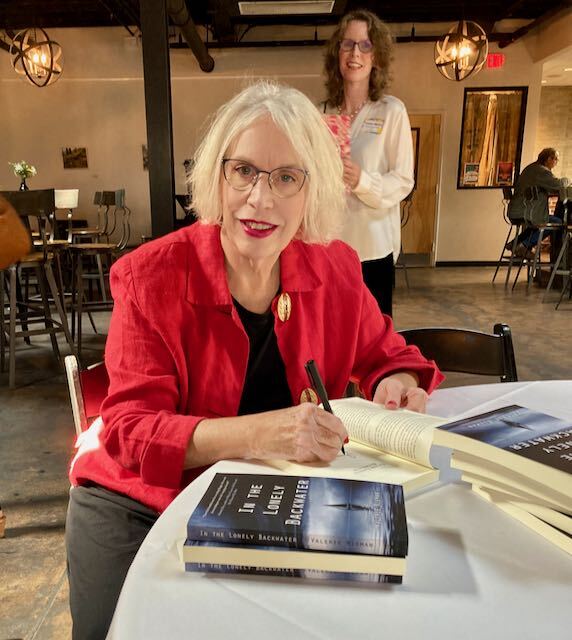 May 8, 2022
With the May release of In the Lonely Backwater, reviews and interviews have been coming in steadily. Here's a sample.
In StorySouth (where there's also an in-depth interview), acclaimed novelist and poet Fred Chappell notes the constraints of genre form, then asks, "Can Valerie Nieman surprise us literarily while following closely the rules of the "whodunit"? Backwater demonstrates that while following the traditional usages strictly, she can transform the genre." He ends his analysis by stating, "This novel is an intricate and intriguing work of art. Its intricacies are not mere twists of plotline; they are necessary and inevitable. They define, redefine, in a serious manner the term, mystery."
The Southern Literary Review has a review by Donna Meredith, in which she writes the book "would be a grand read if it were only a clever psychological mystery or simply a unique coming-of-age story, but Valerie Nieman achieves so much more than that. With gorgeous description and elegant prose, Nieman transforms a North Carolina village and marina into a haunting character in this fine literary novel. Readers who enjoyed Where the Crawdads Sing will love this story and its likeable teen protagonist, Maggie Warshauer. Beautifully written and perfectly paced, In the Lonely Backwater is a great choice for book clubs."
Small Press Picks states, "This haunting young-adult novel weaves together two mysteries: an engrossing whodunnit and and also the enigma posed by the young woman who could play a role in solving it: Maggie Warshauer, a budding scientist and keen observer of the natural world...It's a pleasure to recommend this riveting, psychologically complex, and beautifully detailed novel."
Kirkus Reviews notes, "Themes of sexual awakening are raised; they drip with phrasing that conflates desire, regret, confusion, and fantasy as Maggie wrestles with internalized shame."
On Goodreads, Lauren Harr writes, "Once you step into Maggie's head, you won't want to come back out. She's fascinating--a gifted sailor, a loner, a deep lover and observer of the natural world. What she isn't is honest with herself, or anyone else, seemingly. My favorite unreliable narrator ever in a story that keeps twisting, turning, and winding through beautiful territory." And Marjorie Hudson comments, "For its love of science, for its all-too-accurate teen misery, for its twists and turns, and finally, for the double twist at the end, I'm in love with this book! In addition to being a powerful story of how a teenage girl can save her own life, it is also a meditation on how to re-create your world if you find it lacking in any category that can possibly include you. Spooky bordering on terrifying, with a mind-blowing resolution."